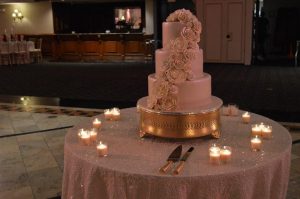 Congratulations, you're engaged! Let the planning process begin! One of the first few things couples check off their wedding to do list is choosing a venue and then, choosing a menu for the special occasion. Food is an aspect of every event that should be held to a high level of importance. Make sure your guests are well taken care of and well fed with a delicious and well selected menu. Never planned a wedding reception menu before? Don't worry! Our helpful tips will ensure you create a tasty night!
Budget
Money money money! Budget is often the first thing to consider when choosing a reception menu. I always like to tell our clients when first planning a wedding, choose their top three must haves for the day that are most important to them.  99% of the time, food is in the top three- if not number one! The next step is to discuss a proposed budget that you are willing to spend on the food including: beverages, hors d'oeuvres, dinner, dessert, and the always popular, late night snack.
A few things to ask yourself when you are planning the budget for your menu:
Beverages:
Do we want to serve alcoholic beverages?
If not, will coffee, tea, and water suffice or should we include soft drinks?
Do we have a hosted bar or do we want to provide a cash bar?
Do we prefer a specific kind of alcohol, wine or beer?
Hors d'oeuvres:
Should we provide something to guests prior to the dinner? *consider time gap*
Do we want a large table, platters of each guest table, or passed?
Hot, cold, or a mix of both?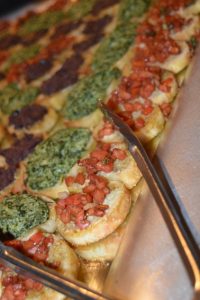 Dinner:
Do we prefer table service, family style, or buffet?
How do we accommodate dietary restrictions and allergies?
Dessert:
Cake, cupcakes, cake pops, etc? *Cake cutting fees?*
Sorbet or ice cream? Served with cake or stemmed dessert?
Served or a dessert display table?
Late night snack:
Do we want to serve our guests a late night snack?
What type of food would my family and friends enjoy?
How can we make the snack meaningful and fun?
Nailing down a few of these details will help you piece together a more complete budget for wedding reception menu. Although these decisions might change as you get closer to the date, knowing a rough estimate on what you want will help compare prices and give you an estimated per person range.
Connect food choices with the couple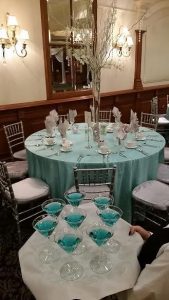 With all wedding planning, specifically the food, it is important to utilize both partners' opinions and tastes when creating a menu. You and your partner should sit down together and decide on the details of the food that will set your wedding apart from others you've attended.
Do you or your partner have a favorite food? An easy way to make your wedding special to the both of you is to add in your favorite dish. For example, if your partner loves Caesar salad, it might be a great way to upgrade from a house salad. Or if you are a pasta person, adding in a pasta course will be sure to brighten your day! Any first date memories you may want to incorporate? For example, if your first date was at a pizza shop, you could easily incorporate pizza as a late night snack option. Was your first date at a coffee shop? See if your caterer can recreate your go to drinks as a special treat for your guests! Do either of your heritages have a special meal or dessert typically served at weddings? Add in that touch of personality with family or cultural specialties! Many venues allow you to customize a menu, create something special for your day, or bring in cultural foods!
Consider Dietary Needs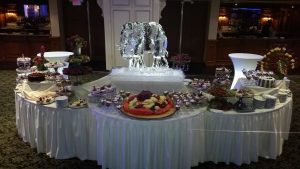 As many people become more aware of different dietary needs, it's always considerate to include various options for your guests. Some specialties to consider are vegan, vegetarian, gluten free, dairy free, and nut free. Not sure what menu items would be considered for each? Ask your venue or caterer for advice. Making sure your guests are comfortable with their meal and options is a great way to ensure everyone has a wonderful time and doesn't leave hungry!
Check out Petruzzello's delicious dinner and bar menus below!
https://petruzzellos.com/wp-content/uploads/2018/11/Dinner-Menus-and-Bar-Service-Options-2019-and-2020.pdf