Have you ever been given a wedding favor and thought to yourself, "when am I ever going to use this?" Don't waste your money on wedding favors that your guests will throw away shortly after your special day. Our wedding favor tips will be sure to help you pick the perfect present that your guests will LOVE and USE!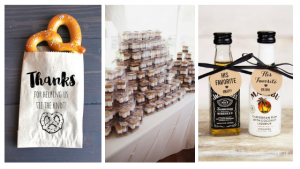 Personal
Make them personalized, but not over the top. Imagine attending a wedding where the favor was a coffee mug featuring an engagement photo of the couple. With the exception of close family members, not many guests will want to look at your photo every time they reach for a cup of coffee or tea. Fight the urge to plaster your photos, name, or date all over the actual favor.
Make your gift personal to you and your fiancé by choosing something of meaning to you both as a couple, where you met or where the wedding is taking place. For example, if you have a destination wedding, you might include a special food from that area. If you both love macaroons, you might add a small stack of colorful choices at each place setting.
Still want it more personalized? Add you unique touches like photos, dates, and names to the packaging of the item. If you are interested in providing your guests a mug, opt for a simple one with a love quote and package it inside a box that bears your monogram and date. This will allow guests to feel the personalized touch, but not interfere with their daily use of the product.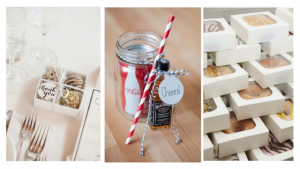 Purpose
Make the gift useful.  How many of you have received a paperweight or key chain from an event? What did you do with them after? If you're like me, you probably threw it somewhere, allow it to collect dust, or toss it in the trash. Don't let this happen to your gift! A simple way to ensure your wedding favors are something guests will actually want is by gifting them something they can use regularly or consume. Bonus points if they can double as a place card! Below are some of our favorites:
Usable:
Blanket
Small potted plants
Umbrella
Personalized spice jars
Scratch off lottery tickets
Decorative wine corks
Custom-made candle
Flavored olive oil bottles
Unique bottle opener
Edible:
Wine
Chocolate
Cocktail kits
Desserts to go
Jar of syrup, jelly, or honey
Individual caramel apples
Unique flavored lollipop
Bag of flavored coffee beans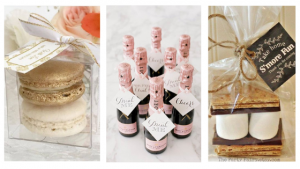 Quality
Make sure your wedding favor is of quality materials. When selecting the right wedding favor for your guests, make sure that the product you plan to purchase is of good quality and not something that is "junk" as this would lead guests to toss the item. To pick the right gift, we suggest reading both the positive and negative online reviews, look at return policies, how they handle customer service, and try before you buy if possible. Testing prior to purchasing is especially important if you go with one of our favorite edible choices. You wouldn't want buy 200 bottles of wine or 300 chocolates only to find out that they taste terrible! Treat your guests with something of value by researching your options before purchasing.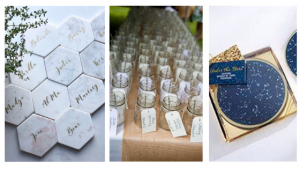 Show It Off
Make a display. Favors are often overlooked or placed in the wrong spot within the venue allowing guests to miss them. Make sure your guests see your favors by creating a table near the exit or placing the favors at each table setting. Check with your venue if they have a spot dedicated to wedding favors or what they would suggest for your specific item. Both options are sure to capture the attention of all of your family and friends to ensure they see and receive the gift.