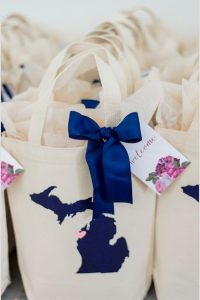 Welcome bags for weddings are more commonly used for out of town guests that are staying at your chosen partnered hotel. It's a great way to say welcome and thank you for traveling to share in your special day. When you book your wedding reception, often venues are partnered with specific hotels that offer select room rates for your guests in a room block. A month before your wedding, check with the hotel to get a rough estimate of how many guests have chosen to book under your room block. These guests are often out-of-towners who are traveling for your big day.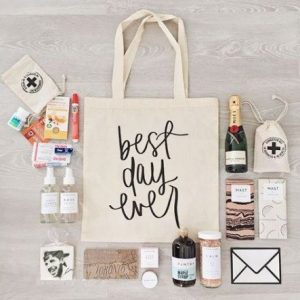 In many cultures, it's customary to welcome guests when they check into the hotel. However, you don't want to be spending the precious days before your wedding greeting family and friends in the hotel lobby! As an alternative, piece together welcome bags for them to feel the love right from the moment they check into their room. Ask your hotel what their policy is with welcome bags as many will hold the bags at the front desk and distribute them to your guests upon check in.
Once you've decided to provide out of town guests with welcome bags, the next question is what to include in them! Don't worry, we have a list of items that are sure to please and welcome your attendees. You know your guests best so be sure to mix and match these to best represent the area and you as a couple.
Ideas for inside:
Small gift bag or printed tote
Water or specialty drink
Advil
Snacks- bonus points for local products
Map of area
List of things to do around town
Wedding schedule for all events guests are welcome to
Shuttle schedule
Practical items: sewing kit, safety pins, lint roller, sunscreen, mints
A few of your favorite things
Handwritten note on a local postcard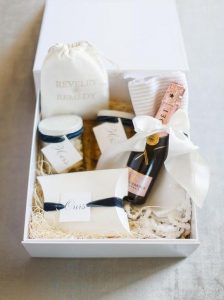 Tips while making them:
Don't do it alone. Enlist the help of your wedding party and family! Make it a fun event for them to come and help with any last minute wedding needs while also having fun creating small take a ways for guests.
Size matters. Make sure you don't overload the bag with larger sized goodies. Odds are there will be guests who are traveling with smaller sized luggage and might not have room for larger items. Keep things small and simple.
Personalization is key. Add a touch of the couple in each item with specializing it towards your wedding colors, designation, or add a monogram or label to the pieces. Anyone can put a bag together but only you can customize it towards your day.